Turnkey Computer Networking Services in Flint, MI
---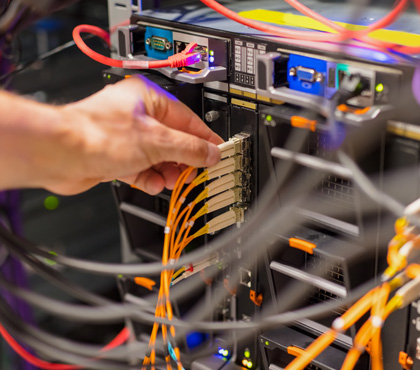 Increase productivity with network solutions that will streamline your systems and operations.
In today's business world, the term "streamlining" gets thrown around quite a bit, but here at Symplex IT Consulting, our networking services are specifically designed to help you streamline your systems and operations with an advanced and cutting-edge network that leverages innovative connection technology to take your business to new heights.
When you first contact us, you'll be paired with one of our network engineers who will remain by your side every step of the way to provide you with a customized network solution that not only meets the expectations of your team but exceeds them too.
Effective networks break down communication barriers and help to forge stronger teams within any business. At Symplex, we're always focused on building relationships, whether that be by forging new relationships with clients or by helping our clients connect with their employees and customers on a deeper level than ever before. And for us, networking is how it all gets done. We'll provide you with a completely tailored network installation plan complete with security, virus protection, a network recovery plan, and everything else that you need to stay up and running.
---
Network Installations & Maintenance
Your network shouldn't merely be a connection of servers and computers – it should be a powerful tool that your business can use to its benefit. From routing and switching, to SSL VPNs and wireless services, our knowledgeable and experienced network engineers will work with you directly to find the right solution that works for you – and from there, we'll make it even more personalized to ensure that it gives you the flexibility that you want to drive efficiency. Whether you're looking to optimize your existing network or invest in something new as part of new technology implementation, Symplex is standing at the ready to help you get the most out of your network and use it to your advantage.
---
We combine our expert, personal service with competitive prices to give you the best IT options and solutions in the area.
Contact us
for a free consultation and discuss your IT goals with a member of our team. Get more information on networking opportunities for your company by calling Symplex-IT Consulting today at
(810) 845-4750
.