Network Infrastructure Solutions for Businesses in Flint, MI
---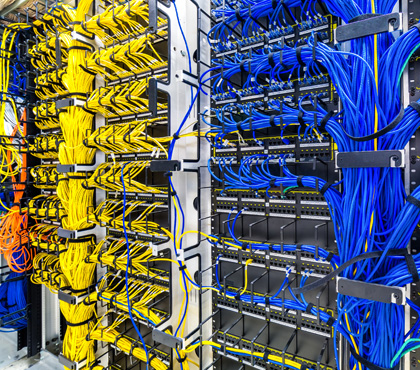 Network infrastructure allows you to protect your data and simplify workflow.
When it comes to your data, your network infrastructure is going to dictate everything from information organization, access, efficiency, and customer experience. In our constantly connected society, businesses need more than hardworking employees and cutting-edge equipment to produce consistently. But remember, your infrastructure isn't just a connection of cables, wires, and the like – it's what drives your workflow. Every operation, every process, and every function that your business conducts and depends on relies on your network infrastructure. Together, we can work to ensure that your network is optimized for your business. Everything from cabling and wiring, network design, and infrastructure installation will be completely redesigned and reconfigure to meet the unique needs of your business in a growable, scalable solution.
Throughout our time in business, we've helped hundreds of businesses grow and scale simply by providing them with a flexible and adaptable infrastructure that can grow with them. And not only do we design, enhance, install, and manage our clients' networks, but we also ensure that they remain protected against a growing web of cyber threats.
Connect with your team, with your employees, with your partners, vendors, suppliers, and more with a sound, cohesive, and constantly connected network infrastructure. Let's get started today and ensure that your business is best positioned for success.
---
Ready to explore how a network infrastructure from
Symplex-IT Consulting
can benefit your organization or want to hear more general information? We leverage your network with industry-leading solutions that'll give you the competitive edge needed to thrive. Give us a call today at
(810) 845-4750
to schedule your free consultation.